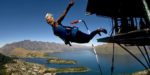 ​Seriously, are You ​Ready to ​Start Leading?
​Compare Bungy jumping with leadership? ​Yeah, most people take the jump a lot more seriously. Understandable. On the other​ hand, we often deliver weak leadership for years and pretend there's not crash coming. But when a disruption occurs, weak leaders get washed out.

Directions for bungy jumping: 1) find a good operator, 2) verify the operator, 3) re-verify the operator, 4) sanity check and double check gear, 5) don't the first to jump! Result: All Good.
Directions for leadership: YOU are the bungy operator! No checks at all. Result?

​Over years of working with lots of highly qualified tech professionals, my verify-the-operator findings are mixed. ​Most already have leadership responsibilities. But their skill inventory often has gaps:
Domain expertise? CHECK

Process understanding? CHECK

​Collaboration and coordination? MOSTLY CHECK

Handling Meeting issues/ topics/agenda facilitation ? WOBBLY

Presenting mission and roadmap? AWKWARD / WEAK

Handling bad news and re-alignments? STRESSED & HESITANT

Handling crisis? RUN AWAY!

Managing up? WORDY and INDECISIVE

​A mixed bag. But a surprising number of "senior" directors and exec's have limitations and friction.
Doubts? Check The Harvard Business Review, June, 2018 on common meeting complaints.
​If your meetings even slightly resemble this gathering, you're losing power. Let's talk!
​In other words, are you ​set to excel or just hold down the position? More concerning, are you already in charge and struggling?
​Where is this going? Ask for help. Colleagues, bosses, books, blogs. AND perhaps a coach.
​And, if you're in the Silicon Valley area, consider a live workshop event. A live workshop gives you peer feedback and a direct read-out of your level of comfort and skills in the leadership chair. Don't be "that guy" who lets team energy drain away and decisions drag!
And bungy jump safely!